ADDING SOME TEC-VARIETY
100+ Activities for Motivating
and Retaining Learners Online
Free
Adding Some

TEC-VARIETY
Book Stuff
Free Book: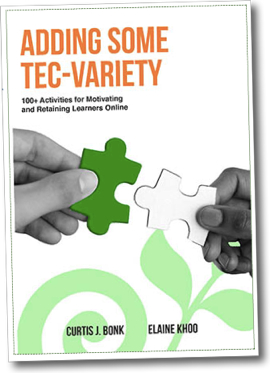 Download Book
Paperback (Amazon)
Free Chinese Version
Kindle Version (Amazon)
Adding Some TEC-VARIETY:
100+ Activities for Motivating and Retaining Learners Online
Free Book Chapters:
PREFACE TO TEC-VARIETY (Includes Endorsements, Dedication, Contents, About the Authors, Preface, and Index)
CHAPTER ONE – INTRODUCING TEC-VARIETY
CHAPTER TWO – ONLINE LEARNING ATTRITION AND RETENTION
CHAPTER THREE – ONLINE MOTIVATION FROM FOUR PERSPECTIVES
CHAPTER FOUR – PRINCIPLE #1 TONE/CLIMATE (Includes Psychological Safety, Comfort, and Sense of Belonging)
CHAPTER FIVE – PRINCIPLE #2 ENCOURAGEMENT (Includes Feedback, Responsiveness, Praise, and Supports)
CHAPTER SIX – PRINCIPLE #3 CURIOSITY (Includes Surprise, Intrigue, and Unknowns)
CHAPTER SEVEN – PRINCIPLE #4 VARIETY (Includes Novelty, Fun, and Fantasy)
CHAPTER EIGHT – PRINCIPLE #5 AUTONOMY (Includes Choice, Control, Flexibility, and Opportunities)
CHAPTER NINE – PRINCIPLE #6 RELEVANCE (Includes Meaningful, Authentic, and Interesting)
CHAPTER TEN – PRINCIPLE #7 INTERACTIVITY (Includes Collaborative, Team-Based, and Community)
CHAPTER ELEVEN – PRINCIPLE #8 ENGAGEMENT (Includes Effort, Involvement, and Investment)
CHAPTER TWELVE – PRINCIPLE #9 TENSION (includes Challenge, Dissonance, and Controversy)
CHAPTER THIRTEEN – PRINCIPLE #10 YIELDING PRODUCTS (Includes Goal Driven, Purposeful Vision, and Ownership)
CHAPTER FOURTEEN – SUPPORTING AND MOTIVATING INSTRUCTORS
CHAPTER FIFTEEN – RECAPPING TEC-VARIETY
WEB LINKS, EXAMPLES, AND RESOURCES
More Info:
Bonk, C. J. (2013, July). Adding some TEC-VARIETY to online courses. Education Magazine, Issue 6, 15-20, iTunes. (Free PDF)
Bonk, C. J. (2013, January). Adding Some TEC-VARIETY to Online Teaching and Learning, Cengage Learning. (Free PDF)
Bonk, C. J. (2014, July 24). Time to add some TEC-VARIETY?: Free new E-book for the "masses" of online learners, TravelinEdMan. (Free PDF)
Free Book Flyer:
Adding Some TEC-VARIETY Book Overview
Free Chinese Version:
Adding Some TEC-VARIETY in Chinese
Dr. Bonk's Recent Talks:
http://trainingshare.com/workshop.php
Special Note: The entire "Adding Some TEC-VARIETY" e-book is also posted and available for downloading in EdITLib-Education & Information Technology Digital Library, sponsored by AACE: http://www.editlib.org/p/147416/.
MOOC Book
MOOCs and Open Education Around the World